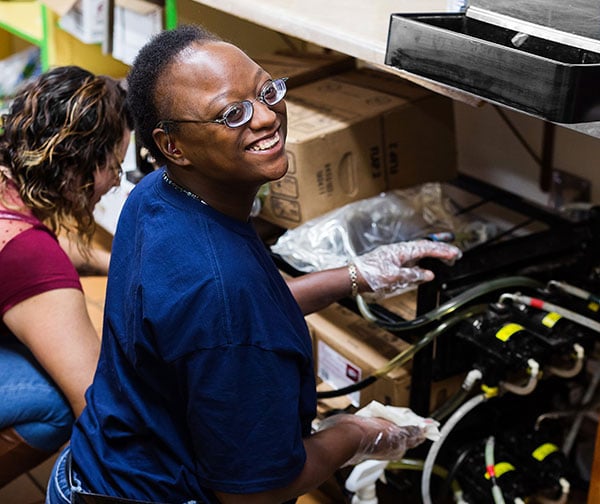 Everyone is employable and deserves the opportunity to carry out full and productive lives.
RISE Services, Inc. creates job opportunities for and with people. We have an amazing team of professionals who help adults with disabilities find and sustain meaningful employment. We find employment that fits the skills, preferences, and schedule of the people we serve.
Contact Us
RISE EMPLOYMENT SPECIALISTS
Our network of passionate Employment Specialists can help adults with developmental disabilities through every step of the employment process. Employment Specialists who are State ACRE trained and certified help adults search for appropriate, meaningful work. They also help in resume creation, interview prep, and on-the-job coaching and support.
These caring and compassionate individuals utilize our employment programs to help adults with disabilities find valuable employment based on their skills, abilities, and interests.
At RISE, we understand the perceived risk of hiring someone with a complex life situation. Certain incentives are available for employers who want to hire, train, and employ these employees.
The On-The-Job Training program will reimburse up to half of the wages in the first six months to help alleviate the extra costs associated with training an adult with developmental disabilities.
The Work Opportunity Tax Credit and Targeted Tax Credit offers yearly tax credits for employers who hire adults with developmental disabilities.
The Felon Bonding Program offers fidelity bonding insurance coverage to individuals with criminal histories and other high-risk job applicants who are qualified but fail to get jobs because regular commercial bonding is denied due to their backgrounds.
We teach skills that lead to independent living. While our members do not have to be enrolled in our Day Services to take advantage of our Employment Services, they may find this program helpful for building other valuable life skills. Through our Day Services, adults with developmental disabilities are able to discover and foster their personal passions within a supportive community. The goal of this program is to:
Help individuals develop useful work skills.
Assist adults in finding creative hobbies and fun activities they enjoy.
Help them become involved within their community.
Get in Touch
Learn more about our services by calling (801) 373-1197 or contacting us online.